The Recipe for Burnout and How to Avoid It
Discover the recipe for burnout and how to avoid it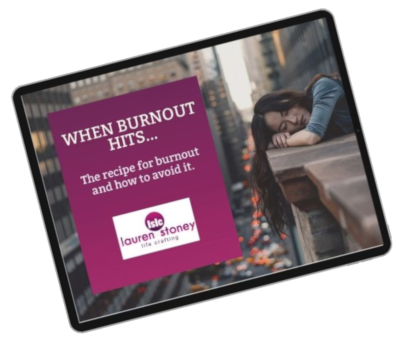 You absolutely CAN be the success you want to see in the world without burning out.
Download this guide to discover how you can shift your mindset in a way that will fuel your passions from a place of health AND productivity.
​

Understand the key mindset ingredients for a 'good burnout'
Get added insight into the brain and why this stuff is so important when it comes to fuelling your health AND your passions

Learn new ways of thinking that will steer you into a more useful direction
There are a lot of people out there searching endlessly for ways to recover from burnout. I was one of them. But why leave it so late?
Sign up to my enewsletter below, for a link to my ebook on avoiding burnout, along with other future topics that may be of interest. Please note, you can opt out at any time by unsubscribing through the link in my emails.
Please note, I take your privacy very seriously and I am committed to ensuring your personal data is protected at all times. I am registered with the Information Commissioner's Office and my registered number is ZA415962. For the full privacy policy, please read my Privacy Policy for further details.
Lauren Stoney is a health & performance coach, and her mantra is that you absolutely CAN be the success you want to see in the world, without sacrificing your health.
With a background in marketing; the early stages of her career were filled with ambition and drive, but life events alongside a chaotic worklife led to burnout. She was eventually diagnosed with a chronic illness; at that point fighting sick days at work and becoming increasingly housebound. She was told to go on 'life- long' medication. But she refused. She turned it around using health coaching and the Lightning Process; ditched the prescription and got her health, career, and life back on track.
Now she work with others to help them excel in their career whilst thriving in health.